Flying Your Puppy?
Flying your puppy? No worries! I have flown puppies all over the U.S.A. without incident for years. I prepare them well.  I only fly them with my Puppy Nanny's. They are WONDERFUL!  They are puppy loving and VERY skilled nannies. Your puppy is carried on board in their lap, loved on & cuddled at all times, and cared for every step of the way! They have food, treats, cheweys, and water during their trip. (and of course toys to play with!)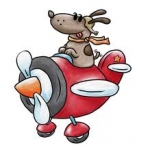 During airport layovers, my nanny will take your puppy to a safe location so they may relieve themselves. This will usually be a family/companion restroom on a pee pad. They remain low key to avoid people gathering and wanting to pet and/or handle your puppy. Your puppy may already be a little shaken due to traveling, excessive handling is the last thing they need.
 We will set up a few possible flight dates when your puppy is 6 weeks old. Please by advised that my nannies fly on a standby basis, therefore it's difficult to determine the best flights/times for your delivery until usually within a week prior to your scheduled delivery date. My nanny will be contacting you approximately 5 days prior to the scheduled delivery with estimated delivery information. The actual time of arrival into your airport may change as to the available flights for her. She will keep in constant contact with you on your cell phone during your puppy's trip.
I will need you to email me with the name of 2 airports near to you in the order of your preference.
Please understand that it is not very "convenient" for either my puppy buyers or me to fly my puppies with my nannies. They fly on a "stand-by" basis that may cause a last minute change for your pick-up time, or possibly even miss a flight because it is already full. There is not much flexibility on dates & times flying the puppies this way.
My nanny will not be able to give us an expected delivery time until 2-3 days before the flight. She has to wait until closer to that day before she knows how full the flights will be.
But, the experience for your puppy is SO much different than the other option of flying them in a kennel in the cargo area of the jet that I now only use my nannies. With this experience of flying in my nanny's lap, it is actually a great experience for you puppy and advances their learning in a good, positive way. That is a HUGE difference from the scary experience your puppy would have in a cage, in the cargo area of the jets.
Also, in order for this not to cost my puppy buyers a ton of money, I need to fly 2 or 3 puppies at a time. Sometimes I have 2 nannies traveling together. This makes this option possible for my buyers without costing them 600-700 dollars. I am sorry that we cannot also be more convenient on delivery days & times but I believe it is worth it so I changed to only flying my puppies with my nanny.
Keep in mind that it is also not easy on my part. I am usually "on call" for quite some time waiting for my nanny to give me the go ahead and bring the puppy to her. So you see, it is also not very easy on my side either. It would be easier for me to just pack up the puppy, put it in a crate, and fly it cargo. But I don't fly them cargo because I like to do what is best for the baby puppy and flying them with my nannies is best!
We generally fly the puppies around 8-9 weeks of age. With the large breed puppies (GoldenDoodles & Mastiffs), we like to fly them between 6-7 weeks of age. Since the large breeds develop faster in their puppyhood, they are ready to come to their new homes sooner than the small breeds.
The nanny/flight cost is $375 for the small size puppies ($500 for 2 small puppies to the same folks), and $400 for the larger GoldenDoodle puppies, $500 to Alaska.
My puppy nanny does not fly into Canada but she can fly your puppy to the border where you can meet her, pick up your puppy, and take you pup across yourself. You will need a special health certificate which I can get for you from my vet shortly before your puppy flies. Extra cost is $100.
(I do not fly puppies as a business for other breeders/people – only my own puppies.)